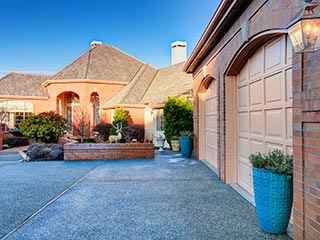 Are you looking for someone to restore your damaged overhead door? Look no further than our team in Roswell. We provide top of the line services and solutions at affordable rates and aim to be your go-to service for all garage door repairs and troubleshooting. Over the years, we have become one of the leading garage door companies in Georgia.
What Makes Us Different?
We think the key to our outstanding reputation for repairing doors and openers for garages is our personnel. We maintain a team of well-trained, updated, and highly proficient technicians. With their vast experience, we can assure that each and every customer receives the best service we can give them, be it for a broken spring repair or for an entirely new automatic garage door system. During any service visit, our team will check your system is safe for use and that no breakdowns are likely to catch you off guard in the near future.
All Brands, Models & Types
If you're experiencing problems with your newly installed sectional doors or think it's time you upgraded your opener to include better security features, our team can help. We have experience in dealing with a wide variety of models, from Wayne Dalton, Genie to LiftMaster. If you're in need of a new door, we can also help you choose the right type for you, make sure that it fits in the space you have and look after the complete installation process.
Safety Is No Joke
A faulty garage door isn't just a pain in the neck, it can be downright dangerous. Without the right precautions and maintenance, both further damage and injury could result. Don't delay in getting your system checked for underlying problems - we can check all parts are correctly adjusted, all the moving parts are lubricated and that nothing is out of alignment as part of our regular maintenance services. We recommend you book in a professional service of your system at least once a year.
Allow our Georgia based technicians to handle all your garage door installation, adjustment, or replacement needs. Just get in touch with us by phone or via our online scheduling system - we'll be glad to hear from you.
Contact Us Today & Make Your Garage Door Problems Go Away!

Local Experts

Preventative Maintenance Services

Emergency Services

Experienced & Reliable Technicians